Shopping Cart
Your Cart is Empty
There was an error with PayPal
Click here to try again
Thank you for your business!
You should be receiving an order confirmation from Paypal shortly.
Exit Shopping Cart
Tiverton in Mid Devon has a new community radio station run by volunteers bringing you the best in what's going on locally. Writers, artists, business, education, local food and restaurants, charities, support, town events, villages, crafts, history, social history, countryside, schools...
Read our blog and witness our journey so far! 
| | |
| --- | --- |
| Posted on February 27, 2017 at 7:30 AM | |
Hello, lots happening and even at half term we managed to sneak in a few more www.exmoorfoodfest.com interviews as we believe locally we have some of the best eateries , chefs and producers here and keeping it in the local economy is only a good thing now and for the future generations too. This is something Sir Tim  Smitt believes in too he was the founder of www.edenproject.com and has a proposal for the allocated land at Junction 27. It will not be a commercial service station but will put Agriculture UK and Devon at the very heart of what he does in an environmental way to act as an educational leader in this area - to entertain - enlighten visitors and encourage more visitors to surrounding areas too including Tiverton. To listen to Tim please click onto his podcast on our home page and make your own minds up.
Onto COOK LOCAL we have interviews with Paul Berry at the Swan in Bampton www.theswan.co and chef Paul Webber at www.hartnollhotel.co.uk  in Tiverton and we caught up with chef Barrie Tucker at www.luttrellarms.co.uk in Dunster all these guys are producing great seasonal dishes and fanatstic value too. No excuses not to eat out! We had the pleasure of recording Paul Webber giving a cooking demo at the Hartnoll and there is also a walkthough of this venue too, so do listen as with The Luttrell Arms in Dunster and The Jubilee Inn in East Anstey.  Young Chef Steven Hadley at www.chambers-bistro.co.uk who trained at the now closed Minehead catering college and also under Olivier Certain and Andrew Dixon gave a great demo of a scallop dish and with Lucy on desserts so click in to listen to this podcast from a Minehead restaurant, one to watch. We would like to keep featuring more local restaurants after the event finishes as it has been a popular feature with some shows getting 200 hits and thats just on mixcloud; so to be featured get in touch! 
We welcomed Elizabeth Ducie into THE LIBRARY this month a very world wide travelled lady with her 30 years working in the international pharmaceutical industry which has influenced her writing thrillers and her three books in a series the first being Countefeit! She is also recorded reading from her first novel Gorgito's Ice Rink . Elizabeth  offers valuable advice on the business of writing too and was one of the founders of Chudleigh Literary Festival. www.elizabethducie.co.uk
We have the next of our live sessions at Petroc College Wed 1st March 7pm free entry broadcast live click on if you cannot make it! Local performers Ollie Dixon, Joey Taylor, Vikki and Rob Craig. In the future there will be a bar too! 
In our ABOUT TOWN show we have www.addaction.org.uk an organistion that support alcohol and drug addiction and they had their 50th anniversary. Their regional hub is in Tiverton and they also offer outreach and mental health support so do listen if this is something that affects you or someone you know to take the first steps to the road to recovery.
We also welcomed Daphne and Jenny presidents of www.soroptimistsinternational.org into the studio to tell us about this worldwide women's group and the upcoming women's international day on March 8th 2017 and this charitable group will be on the bridge by the clock tower to raise awareness, looking for more ladies to join this proactive group in the community too. Caitlin Davies from www.rotaract.org came in to tell us about the new group she is setting up a branch of Rotary International aimed at 16-30 years old to support local charity work and awareness as well as being a great social opportunity too.
SKYWATCH has updates and new shows all about the sky at night and astronomy in conjunction with Tiverton Astronomy Society a friendly group who meet every month at Blundells school www.tivas.org.uk next up another outreach primary school visit with Jo Richardson, Space ambassador.
We are piloting a new show  looking at things 'Believe it or not' this is up on mixcloud now and we would love feedback and what should we cover this will be a call in show too with sci-fi author Richard Dee. 
SPORTS SPOTLIGHT is paddleboarding on the canal with Rob Mc we are going to follow this up in March when Caro B actually has a go and not sure if this is going to have a happy ending! We are arranging also to have regualar links with Tiverton Town Football club so watch this space. Any other sports get in touch please!
STAGEDOOR saw 7 of us go to the Rocky Horror Picture Show sing-a-long so click on for a fun review as it was pretty darn good at www.exeternorthcott.co.uk
| | |
| --- | --- |
| Posted on February 8, 2017 at 2:10 PM | |
This month to tie in with the Exmoor Food Festival http://www.exmoorfoodfest.com we are featuring lots of chefs/restaurants and mentioning local producers too that supply local keeping good food traceable and sustainable. Click into ABOUT TOWN to hear these. To date we have the great pleasure of talking to:
 

Andrew Dixon from 

http://www.cafeporlockweir.co.uk

 championing local  grade A oysters from

http://www.porlockbayoysters.co.uk

  a community project set up by Porlock Parish Council, which will feature on his festival menu 2 courses £10 or 3 for £15.   

Olivier Certain from award winning http://www.clavelshaybarn.co.uk

 who also teaches the catering students at Petroc College

Claire Lynch from http://www.claires.kitchen near Dunster who is cooking for the Oriental Banquet at Knowle Manor and catering to include frozen home delivery meals and her soon to be launched secret dining! She also knows a thing or two about how to heal gout through diet and is writing a book with recipes for this all to common problem.
Sam Salway is head chef at the newly refurbished http://www.thejubileeinn.co.uk in West Anstey 15 mins from Tiverton off the Link Road it has 5 interior designed rooms to stay in, very child and dog friendly too! 
Students at Petroc College have been talking to us telling us about the great courses available and the Exe Restaurant is open to the public on Wednesday and Friday this month it is American themed, click into Petroc on our home page for more details.
Nick Mort from http://www.beambridgeinn.com who teaches at Petroc College too. Nick and The Beambridge do a great value carvery everyday based near to Wellington.
Next up we have http://www.theswan.co/ in Bampton and http://www.hartnollhotel.co.uk/ in Tiverton and more to follow.
We paid a visit to 
http://www.froufroubistro.com/
 in the Town centre and highly recommend especially their music and jazz evenings and of course 57 varities of gin! The food is incredible and menu de jour 2 courses for £11. If your restaurant would like a mention do get in touch to be featured! We rely on you contacting us as we are a small team. 
| | |
| --- | --- |
| Posted on February 1, 2017 at 2:15 PM | |
Check out our new author in THE LIBRARY Stephanie Bailey who popped in from a nearby village; a far cry from where the book is based and certainly better weather! Stephanie's book 'Singing in Silence' is based on her life in Dubai. She went there after a 20 year marriage dissolved and found love from an unexpected encounter, needless to say Stephanie's life went stratospheric and it certainly is as Stephanie describes #erotic #political and a #thriller ! Think a Sex and the City  meeting Shirley Valentine... with a bit of #Homeland in the mix there is a sequel planned which I for one will wait with baited breath. 
Charlie and Gareth give their take on the new film #LALALAND which has been on at the #Tivoli for two weeks and is a up to date musical and on track for a few awards this season too. Check out TIVOLI TIMES all up to date film listings are on here too.
We have been chatting to two students Jack and Scott at Petroc catering who will be running a themed American dining in the Exe restaurant for the next month have a listen click into our Petroc page with their fellow students and amazing tutors. Every Wednesday and Friday.
TALKING MUSIC click on to hear local music legends Mike Soundy, Johnny Hall and Sam Fisher. Are you a local music hero and have a musical journey get in touch! Our next Live Music unplugged will be the 1st March put it in your diary get in touch to reserve a seat. These shows will be free to start with we welcome donations to keep the station going though! 
SKYWATCH we were at the Schools event at EAST ANSTEY primary with the space detective Jo Richardson unfortunatley the skys misbehaved! But we will be at the Blundells school event open to all this Friday 3rd Febraury. Tiverton Astronomy society.
| | |
| --- | --- |
| Posted on January 25, 2017 at 1:25 PM | |
Catch up on STAGEDOOR this week and listen to Andy Lockyer who is directing the 72nd pantomine for Tiverton Signpost Club this is an impressive pedigree! They are showing Dick Whittington and his Cat..expect a rat too but that's all I'm saying, review up by the weekend though. 
Please note all matinees are now sold out.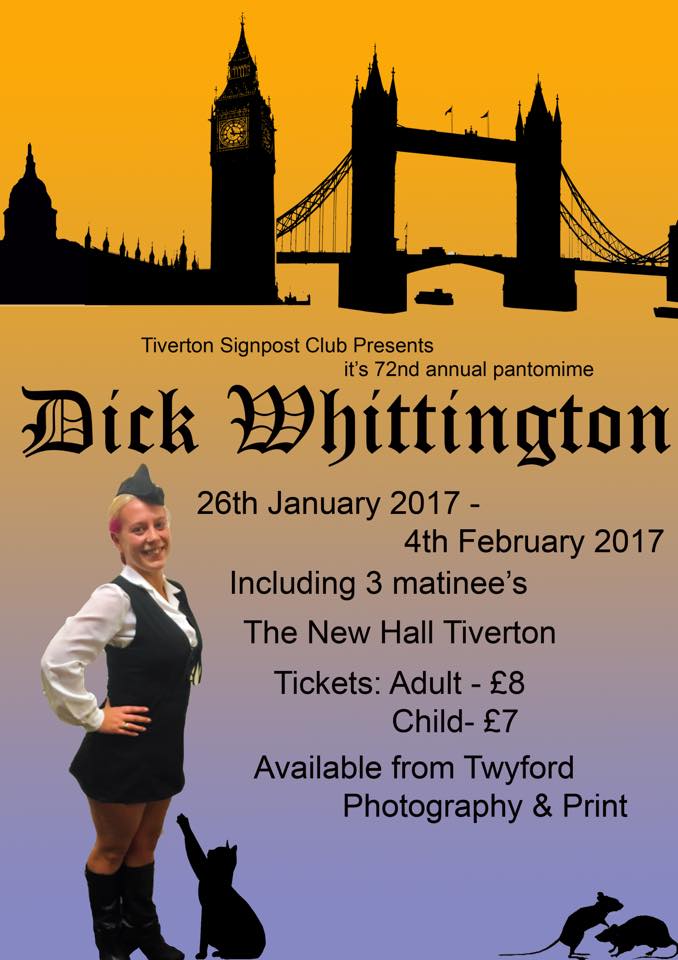 | | |
| --- | --- |
| Posted on January 18, 2017 at 9:35 AM | |
Yes, should we even be talking about food and diet in one sentence? Well sometimes yes we do and we had the motivating Miranda in this week to tell us all about the inspirational Slimming World http://www.slimmimgworld.com groups of which there are new ones now at Moorhayes community centre, so even less reasons not to go as most groups are within walking distance in the town now... depending on where you live! So catch her on ABOUT TOWN. We would love to hear of any success stories too. Coming up for our New Year New You we will also be talking about a new Boot Camp in town and a new hobby have you tried Hockey or Fencing? Look out on the SPORTS SPOTLIGHT.
We are media partners with Exmoor Food Festival supporting the great food, restaurants, chefs and cafes in the area. First up we interviewed Chef and tutor Olivier Certain. Petroc have Olivier as a superb tutor for the catering students along with Nick Mort, catch these interviews on our Petroc page and the COOK LOCAL show. Olivier works at the award winning Clavelshay Barn near Taunton. Restaurants such as Oliviers and The Swan in Bampton, The Jubilee Inn near South Molton, Mason's Arms in Knowstone and many more are offering a fantastic chance to dine for £10 FOR 2 COURSES and 3 for £15 it really is a chance not to miss out on! Download a voucher from http://www.exmoorfoodfest.com book in, it's that simple! There are also other events so do keep checking in for daily updates! 
On food again we had Ruth in from http://www.cagdevon.org.uk community action group and Delia talking about green issues , recyling and how we can do better at it! They run monthly repair cafes at the market, give and take schemes, composting workshops and food heroes to get food waste reduced and getting communites together to make use of food that is fine but we just throw away! Salad is the top one here. They have 2 workshops coming up 21/22 February at the Heathcoat Community Centre pop online to book on and be a food hero!
Our live sessions kick off tonight so fingers crossed for no hitches but all part of the fun isn't it We welcome singer/songwriter Hayley McKay http://www.hayleymckay.co.uk and supporting her Ollie Dixon. Places are limited for this 5-6.30pm Petroc Lecture Theatre. It is also the open event for Petroc College and expecting a good turn out. 
| | |
| --- | --- |
| Posted on January 17, 2017 at 12:00 AM | |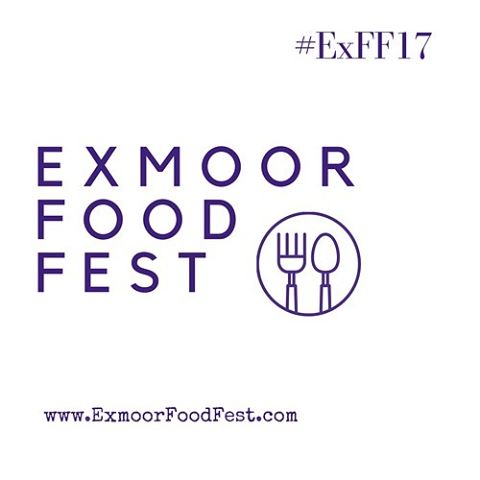 | | |
| --- | --- |
| Posted on January 14, 2017 at 8:20 AM | |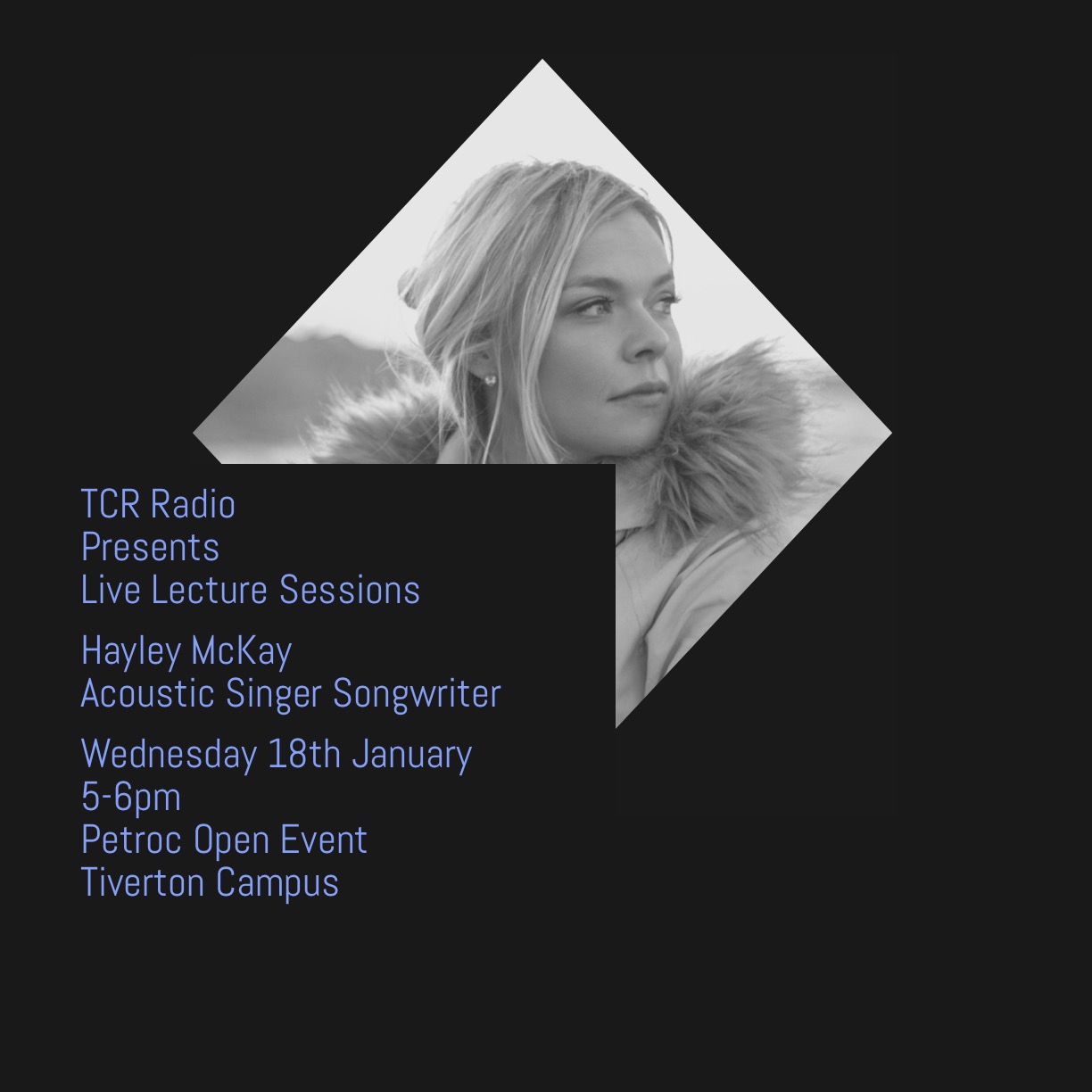 | | |
| --- | --- |
| Posted on January 10, 2017 at 11:25 AM | |
Welcome to the first blog of 2017! Hopefully all recovered from Xmas and all the bugs that have been going around ourselves included lasting a solid 3 weeks! We have been back in the studio with a new show with Mike Soundy TALKING MUSIC. Mike is a drummer and well known especially in his bands and teaching drums look out for the gig' The Sabbath Years' coming up 21st Jan at Exeter F.C his 'big kit' is coming out for that one expect it 'Loud'!  We will soon be getting a date in for our live Wed night sessions so keep an eye on  our Facebook page. 
Astronomy SKYWATCH was a trip to Blundells so check that out talking sky shuttles, the club is open to all with regular events every  month and guest speakers . We have more interviews coming your way and a New Year show all about keeping fit and losing weight so keep checking in!
We welcome guest presenters whether to do a music show or some interviewing so please get in touch. 
| | |
| --- | --- |
| Posted on December 16, 2016 at 12:20 AM | |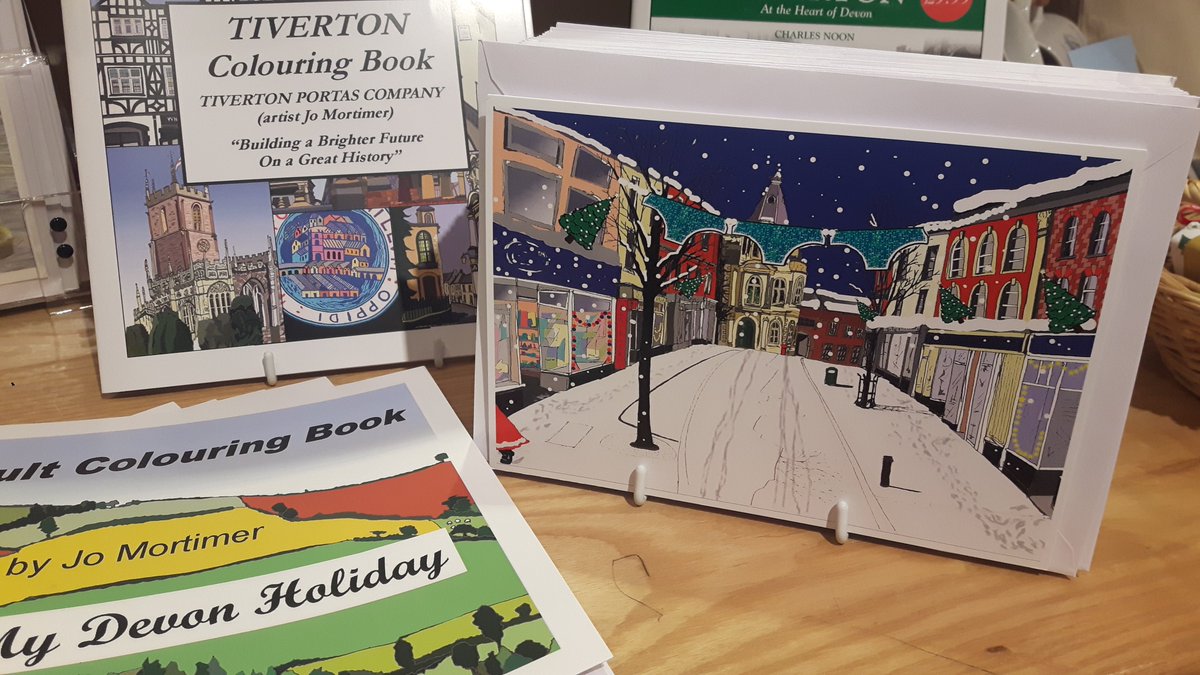 photo courtsey of Tiverton Tourist Information office which is selling Tiverton Christmas cards by local artist Jo Mortimer 
 TCR Radio wish everyone a Happy Christmas and thank you to all our suppporters who have encouraged us to keep going even when the going got tough and we asked ourselves 'What are we doing?' we must be crazy! The last few weeks we have concentrated in getting the shows together and the content. It will be a long road still- as we are a small team with zero budget but in the New Year we are looking at hopefully grants and sponsors to keep going so if you or your business are interested in supporting your new community station get in touch it will be at a competitive rate and can include a 30 second commercial with production included. We are getting more and more outreach so it is an ideal time to get on board. 
We have an exclusive Christmas present to you on behalf of Farms for City Children which Michael Morpurgo and his wife Clare founded 40 years ago now. Michael along with Virginia Mckenna and the incredible choir 'Voices at the Door', gave an atmospheric  performance at Exeter Cathedral recently. It is a narration of 'The best Christmas present in the World' in which the Germans and the British on Christmas Day 1914 laid down arms and played football and swapped food. Recorded with kind permission of the charity and Stage Engage. 
In THE LIBRARY another exclusive we have Jenny Nater who is 96 and seved in WW2 in Dover, Kent. Her story has been published 'Secrets of a Signals Interceptor' and we had the great privelige of meeting Jenny who now lives in Devon. We would like to thank all our local authors who pop in and make great interviews and it is always interesting to find out about what they are writing and even more so about their lives in general. There is great talent right here!
TALKING MUSIC is gathering steam and we are getting bands and musicians on board to deliver some rather cool live sessions so watch this space! Meanwhile click on Talking Music to hear what Rick and Sam have been up to and engage your ears for some new sounds! 
John Parrett thank you for contributing to SKY WATCH always fascinating stuff what goes on in the dark matter just above us. Click on for updates every month.
STAGE DOOR we getting some great reviews in from our team of reviewers and really showcasing just what a pool of talent is in Devon and that means in the villages too! Thank you to our contributers we can't do it without you, get involved - get in touch! it's fun. 
COOK LOCAL showed off Petroc catering students and what future talent we have in the College, we are keen to embrace any local food and drink establishments so get in touch to be featured all you have to do is feed us, lol! 
We will be promoting the Tivoli cinema in town and have a link to reviews of new films and film times too, courtesy of Merlin Cinemas. Next up Star Wars: Rogue One.
New show for new year is SPORTS SPOTLIGHT all that is happening locally in the sports arena. Tiverton men's Hockey team were first off the post here with a great round up and Tiverton Town football team up next - want your club to be on air get in touch and we'll have a chat. 
As well as shows we offer constant music 24/7 which will be categorised in the new year and we also invite people interested in to do live shows these can be day time 10-2 mon -fri or a Mon or Wed evening up to 9 pm. Night chill out music from 10.30 right through the night too. 
We have some interesting archived podcasts to include Tiverton Literary Festivals (2015/2016) Comic Con , Electric Nights, Food and Drink Festivals, Halloween specials, War Horse narrated by Micheal Morpurgo (exclusive) Rosie Lowe, Bucks Fizz and more. 
ABOUT TOWN is a weekly round up of what's on in the area contact us to be featured.
| | |
| --- | --- |
| Posted on December 5, 2016 at 6:25 AM | |
The last Electric Nights Street Food was on Saturday and TCR radio were there supporting. We got some  great interviews thank you Vicky and Paul for helping with this! Orange Flag were playing and we heard great voices from the local choir and band music from Tiverton Town Band. A vist from Santa and Reindeers too! We will edit this together by the middle of the week so keep your ears peeled! The #TivvyElfTrail has commenced find 10 of these little chaps hiding around the town and take your selfie with them  and hashtag on social media to be in for a chance to win family tickets to the Tivoli cinema! The 29th Annual Christmas Gift and Craft Fair was at the Pannier Market too on Sunday and was fantastic as usual. 
If your event would like to be featured on the radio get in touch and we can have a chat as much notice as possible please as we are a small team of volunteers and it is getting tricky to be in many places! 
Our authors this week were Richard Dee with not only an intriguing life on the sea and the Thames as a Master Mariner but a new life as a sci-fi writer too!  (uploaded now with extract from one of his novels - read by Circle of Spears Productions) Janet Braud Few had a few 17th century stories to tell and research into family history and the rugged coastline of North Devon (uploading next week) We have such a great time interviewing authors and love to hear from you get in touch!
Poets please come along to our TAKING FLIGHT LIVE POETRY SLAM on 14th December 6.30-8.30pm at our studio in Petroc. Winter THEME.
ALL welcome including children. 
Poem (max 30 lines)
flash fiction (up to 800 words max)
RSVP for this one please!
0

/